DON'T LET YOUR INVESTMENT KEEP YOU UP AT NIGHT - Tips for finding a great property manager
Given that your property manager is responsible for the day to day running of your investment it is understandable that you need the best property manager in order to be successful. In this article we are going to cover some key tips to ensure you are signing on with the best property manager or team to ensure you are setting yourself up for investing success.
RENTALS IS A CORE BUSINESS- What is the agency's focus?
Some agencies will only sell properties, some will only manage properties and some do both. While it's fine to cater to more than one area of the real estate market, as an investor you what to know that your property is a priority. Of course, every agency will tell you that you are a top priority but you should also ask follow up questions and conduct your own research to reassure yourself that this is the case. The first step is to take a look at the agency's online reviews. Are their reviews mainly for sales or property management? Looking at the team page on their website, does the office appear to have balanced resources between departments based on the size of the business? For example, if the agency has 20 staff members but only 2 are responsible for one department (sales or property management) you can see which department is likely to be the bigger focus for that business. Lastly, asking questions about the support your property manager is receiving can tell you a large amount about the agency's commitment to provide an exceptional experience for you. Are they given ongoing training? What happens if they are facing a difficult situation? Where do they go if they don't have the answers?
COMMUNICATION PLAN - Do they have a communication plan?
The difference between bad, good and great agencies can be seen in their communication alone. A good property manager will communicate proactively and will keep you in the loop. This is great when dealing with the smaller sole trader operator but what if you're looking at dealing with an agency where there are multiple team members, or the owner of the business is not your primary contact? Having a clear communication plan in place means that you can clearly see the level of communication that is expected and you can then assess whether or not you are comfortable with that plan.
I would recommend asking about communication expectations around the following areas
When leasing your property

When maintenance is reported or identified

If there is a tenancy issue like arrears

Reporting on periodic inspections
Follow up questions are also very important and can help give you a thorough insight into how the agency operates around communicating, such as;
How will you get information be communicated to you? Be it an email or text or a phone call.

What will be communicated and what won't be communicated?For example is all maintenance reported, only some or is this something that is custom based on your preferences?

Will there be photos of an issue if it was identified at an inspection?
TRANSPARENCY - Do you have unrestricted access to your property information?
Investing is a long term endeavor and many Landlords aspire to purchase additional properties. It is understandable that you would want to know everything is going well with your existing property before taking the leap into investing again. Some agencies may only send a written inspection every three months and a monthly statement showing a monthly balance. This level of information is not sufficient for most people to be comfortable with. This is particularly true if you are investing interstate and are not able to view the property easily. In contrast, when speaking with a transparent agency you will be able to see a high level of information that you are able to access in relation to your property. This can include photos from inspections, copies of invoices that they are paying on your behalf, access to tenants communications etc. Many modern platforms that property managers use allow for landlords to log into an owners dashboard where all this information is accessible 24/7 as well as showing the tenants paid-to-date and more.
GOOGLE THEM! What is their online reputation?
I know it sounds obvious, but the reviews are often a reliable way to know if people are having a great experience or poor experience when dealing with an agency. Some key things you should always be looking for though is if any of the reviews appear fake - like team members leaving reviews to mislead potential clients or disgruntled tenants who have used the review platform to retaliate after being moved along. If the reviews have what appear to be negative feedback, has the agency taken the time to respond to the issue and try to resolve it or the feedback a drop in the ocean compared to the positive reviews. My experience many people often don't leave a review for most businesses they have dealt with unless they have either had a really great experience or a really poor experience. In either instance this should be letting you know you should avoid or shortlist a particular agency.
PROCESSES- Do they have a road map to common issues or events.
Great property management agencies have sound processes for all issues that are likely to become an issue. Some examples would include-
Tenancy Arrears

Failed inspections

Dealing with vacating tenants

Screening new applications

Dealing with maintenance

Lease renewals
While less common issues require an experienced problem solver or property manager with a longer time in the industry, the common problems listed above are really the bread and butter of most agents. If they are not able to confidently explain how and why they approach these events in a particular way then it is possible that they may not be equipped to stay on top of these issues or events before they get out of hand. Likewise, if the majority of these issues are clearly well understood and they have clear action points then you are potentially dealing a good operator - especially if they have flow charts or social proof
ACCOUNTABILITY- Who is in charge of your property?
Agencies can be run in a variety of structures. Some agencies have a single contact that will deal with everything from a-z in relation to a property from entering rents to marketing your property to processing insurance claims. Other agencies break the property management roles down into different tasks to have a team of people looking after individual areas in the process. Some agencies will have a mix of these two. Neither way is right or wrong as all three options work well with an agency that has great people, processes & communication. Whatever the structure of the property management agency is, it is important to know who is ultimately responsible if you need to escalate an issue. Is this the agency owner? Is this a team leader? If you have a single point of contact and there is an issue, what authority do they have to resolve the issue? While you do not expect to have any issues with your selected agency, it is important to have clarity about who is responsible if something goes wrong and who you need to speak to make sure the agency makes it right.
VACANCIES - Empty properties cost money, so do bad tenant
At some point, most investors will need to deal with a vacancy period. Its is something that can either feel like it will kill you or it can be a relatively painless transition if done right. When looking at using a property management agency you should be asking how an agent deals with minimising your exposure to the bad would-be tenants applying for your property and what screening processes they follow. A great property manager will also take steps to minimise your vacancy period as every day or week your property is not tenanted, this is lost income that you can't get back. Some great answers from property managers include conducting multiple inspections at times that suit your potential applicants (after hours and weekends). They will also have streamlined processes to ensure a quick turnaround time for tenants applications to insure when the right tenant is found, they are acted on before another agency offers a lease - you should expect that the best tenants will be offered more than one property by competing agencies. Great tenants have the advantage of everyone wanting to rent their property to them. So a great experience by an agent to provide flexibility of viewing times for applicants, quick turnaround times for their applications and to generally treat all applicants with a sincere level of respect will create further demand for your property - A great experience for you tenants during the tenancy will also further add to your tenancy retention!(keeping your tenants longer)
SEEK VALUE - Cheap isn't value, Expensive is Quality
It is important to mention that firstly fees should be the last thing you consider when speaking with an agency. The first thing should always be establishing that the person or business is the best for the job or at a very minimum, I can see myself doing business with the person or business. I am a firm believer that if I can't see myself working with a professional or business that requires me to put a lot of trust into the other party, then the price won't matter as I wont be using their services. When looking at the service an agent provides and the fees they charge it is important that value is what you are seeking. As an investor I am happy to pay a little more if I am getting a return on my investment. This return might be in the form of a dollar or monetary return, it may be a return of having access to better services or more capable property manager in charge of my property or even may in the form of having more control over how my property is managed. If one agent has a fee structure that cost $X less (let's say an additional $10 dollars a month for example) than the next agent your considering but you don't receive several key features or benefits from the lower priced agent, you now simply need to ask yourself what value you place on those key features or benefits. If the value is more than $X ($10 dollars a month for this example) you then the higher priced agent is representing better value. While I don't think I need to explain why getting value is a generally good thing , this is a concept most are familiar once we identify what the value is. What I do tend to think is, if you position yourself to look for the cheapest product you may tend to end up with issues later down the road of cutting corner (though this is not always the case). This can be anything from ingoing inspections being rushed (the documentation used at tribunal from the start of the tenancy about the condition of a property) and subsequently not getting a bond refund due to the lack of evidence to maintenance being missed for extended periods which go from minor issues to larger issues from not being acted on at an earlier stage. If you then look at the really expensive agents you run the risk of being charged for the sake of being charged. More expensive does not automatically mean better service. If there is an extensive list of fees that do not appear on other agents management agreements, one would expect to see a list of benefits and features that are also not on the other agents brochures. It's ultimately about the agency you engage being sustainable, so that they can do a great job in the way that they promise with a focus giving you value for the fees you pay.
TENANTS ON A DATABASE MYTH- It's the oldest trick in the book
If your looking to move house right now, what is your next step? That's right, you are probably going to realestate.com.au or domain.com.au. Knowing this, a lot of agents will still claim that they have a list of potential tenants on a database. But realistically great tenants are snapped up very quickly and would not be sitting on a list waiting for a call from one agent. If a tenant is actively looking for a type of property in an area and are serious about moving they will be approaching properties that are marketed in that area regardless of the agency. So the real question to any agent that uses this line should be asking about if your list of "potential tenants" is unsuccessful, tell me about what happens then!
TRADES PEOPLE - More important for interstate investors and new investors
All property managers have preferred trades people. But what is important is why are the trades people their preferred professionals. Are the property managers basing this purely on the price of the work, the quality of the work. The responsiveness to work being sent through to the trades person? The value of great trades contacts can not be overlooked as this is going to make your life much easier to leave it all to your property manager to work through any issue over the years but if you locally my recommendation is that you should always be looking for your own amazing trades people especially if you live locally to your property! This is because it will be much easier to validate that the work is carried out to a standard you are happy with if your not trying to do this from the other side of the country. Plus if your property is in the local area, there is a much higher chance our your own personally networks connecting you with trades people who will give you a friends and family style pricing as well.
Here is a checklist to help you find a great fit property manager! (click to download)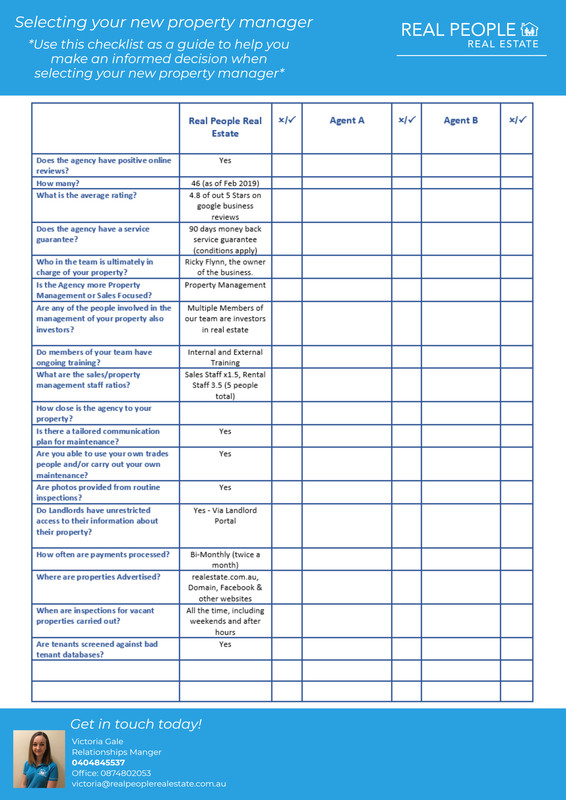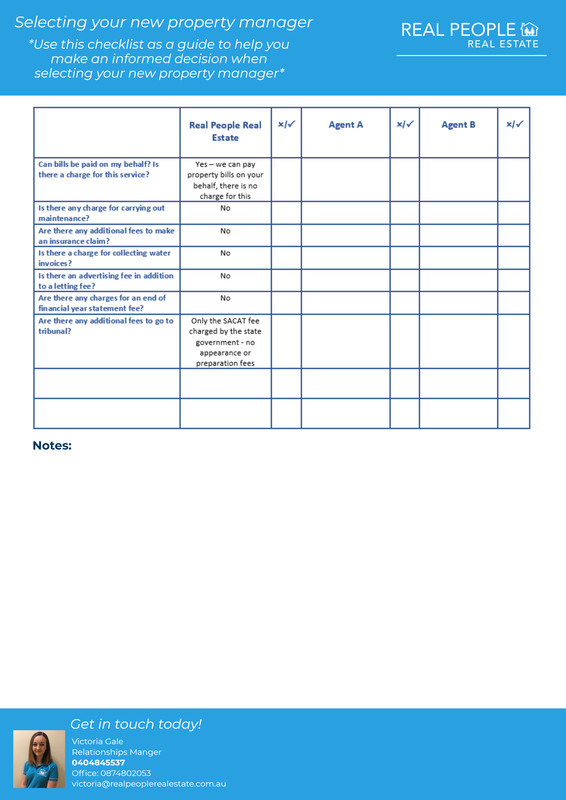 Written By Ricky Flynn, Resources by Victoria Gale
If you would like to book some time with our team to talk about buying an investment property, Selling a property or managing your property. Then then please forward your details or book an appointment to speak with us - HERE